Welcome to TheBallyard.com!
What is it about baseball that has entrenched itself so in our collective psyche? Why is it that credit card commercials celebrating family time are set in baseball stadiums and not at football fields? Why is it that the entries in seaside sand sculpture contests are so often dominated by baseball-themed designs?
Perhaps the answer lies in baseball's timelessness, in the way it connects generations, in the sense of community it creates as cities and citizens rally around specific teams, and in the way it is shared by people of all generations, genders, and ethnicities. Whatever the reason, it is clear that there is much more than a game going on at any given ballyard. And when the experience is done right, to paraphrase baseball legend Bill Veeck, "every day is Mardis Gras, and every fan is king."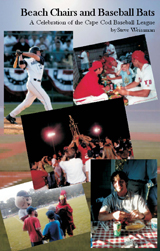 As heard on The Point, WCAI, the Cape and Islands NPR Stations ... The Sunday Journal, WQRC, Hyannis ... The Sports Exchange, WATD, Marshfield ... Around the Minors with Mayo, MLB.com Radio ... ESPN Radio ... WPXC, Hyannis ... also see reviews from the Cape Codder and other leading lights! Click the cover for more! –>

Tracing its origins to the mid-1860s, the Cape Cod Baseball League has long been a proving ground for young ballplayers and a source of pride for local denizens. A hidden jewel in the Cape's trove of summer activities, the league today is emerging as a popular attraction not only for hard-core hardballers, but for casual fans and tourists as well, and it is universally regarded as one the best sports 'takes' in the country.

Beach Chairs and Baseball Bats takes you on a personal journey through the league, exploring how the games actually come to be and introducing the people who make the experience so special. From the players and their families to the townspeople and the scouts, the cast of characters encompasses a curious mix of transients and habitants who share a single bond: a love for the game and an appreciation for the region. Their stories must not be missed.

For more information and to order your copy, please click here or on the cover picture above.
---
Sports Marketing Research
Survey Research to Enhance the Fan Experience

One of TheBallyard.com's mainstream in-season activities involves conducting surveys to identify where fans are coming from, capture critical demographic information (income, age, marital status, etc.), and identify operational areas working well and in need of improvement. This is a central component of our activities and speaks directly to our desire to ensure every fan has the utmost fun possible. Teams with which we have been most recently involved in this regard include the Brockton Rox and the Yarmouth-Dennis Red Sox.
---
Evangelism & Promotion
Promotion & Articulation of All That's Good About the Game
TheBallyard.com is dedicated to promoting and articulating all that is special about baseball, both as an important piece of our cultural identity and as a major contributor to our national lifestyle. We do this in several ways:
We work directly with teams and leagues to identify and address areas of specific interest
-
We write extensively about various aspects of the game
-
We speak publicly, in person and via the broadcast media, about events, trends, and the game itself
Our goal is to help ensure both the casual fan and the committed participant appreciate baseball to the fullest, and come away with the same sense of joy their parents, grandparents, and great-grandparents felt decades before.
Contact Us at